The acknowledged founder of the World Wide Web, Sir Tim Berners-Lee, created the idea and much of the system that allows information to be shared, from the web page, by hyper-links, across the globe.  His was a basically altruistic idea.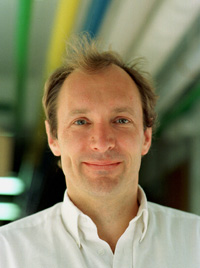 Brilliantly, it has brought disparate peoples together in hitherto unforeseen ways.  Anyone (like me), can place a link on a page to help further the cause of knowledge spreading.  It saves research time, the key phrase being "the semantic linking of information".  Many people add links for purely altruistic reasons – others to promote and further a cause, say.  Whatever;  you must follow a link –   it's the user's choice.
But commercial organisations  always act in their own interests.
In parliament yesterday, in a specially invited debate, Sir Tim and the spy-ware promoter CEO of Phorm clashed.  Phorm (who had previously secretly tracked web user habits last year with the connivance of BT, just like their previous spyware offering) say it's all good and will help advertisers and consumers.  Berners-Lee says it's all bad because we, as people, have no idea what happens to our information.  It's like CCTV and ID Cards following you everywhere.  You have no choice!
And Berners-Lee is right!
BTW, Google is also following suit with their plans for behavioural advertising!  Their "do no harm" mantra is looking very, very thin now.  (I'm seriously looking at their adsense for usage on this website right now).
Data is data is data.  It sits in a box, waiting to be used.  The Phorm data is intercepted by ISPs (like BT etc).  It can sit in their box.  How do you tell?  How do you know where it is?  Have you tried to ask BT what they hold in their box on you?  Most people haven't a clue what data is held or what it looks like until it is lost and appears on a train or car park or the internet.  Then they're worried!  H.M. Government insists that all connection records to be kept by ISPs now as part of the anti-terror hype.  What happens to it?  Do you believe the answer if you ask and get a reply?
Whenever a commercial or government organization says "safeguards are in place" blah, blah, blah – you must check what their previous actions have been.  In this light, Phorm has bad form! Phorm (in whatever incarnation) and their boss Kent Ertugrul have a catalogue of dodgy dealings.  Ertugrul's CV lists his previous 'achievments' as working for the loser banks that have dumped the world into this current financial crisis!  His team, which includes several recent additions from the world of spiv gambling bankers and is composed almost entirely of bankers and salespeople, specialises "in creating and developing technology to enhance social interaction"!
All I can say is that I've never heard spying called social interaction before….
Tim Berners-Lee's actions are well known.  His original concept is summed up in an early web page here.   So who would you believe is right in the debate?  The philanthropist or the spiv?
This is all part of the chipping away at all our personal freedoms.  Like ID Cards, lost government and DVLA data discs, CCTV cameras on every corner ( – but no right to take photographs);  the whole thing is now a wholesale chopping at our freedoms.  It's not a chip, chip, chip any more.  It's Chop, Chop, CHOP!
And then they're gone.
Further Reading: