The pope says sorry for getting it wrong over the holocaust and the nutty bishop
The bankers say sorry for getting it wrong with their greedy decisions that lead to the current economic crisis
Cricket captains say sorry for losing some games
US car maker bosses say sorry for being crap
UK Politicians say sorry for being greedy and setting up an expenses system that allows them to be greedy
US presidents say sorry for accidentally bombing civilians
IRA says sorry for past bombings of civilians
How long should I make this list?
Q.  Does it make it alright if you do great hurt and harm – and then say sorry?
A.  The answer, I think, depends on your future actions from this moment forward.
If we apologise for a past mistake (and everyone makes mistakes – we are all human), the believability of our statement of sorrow will probably be judged on the likelihood of a repeat 'mistake'.  That is the power of 'Reason' and the only reasonable criterion on which to judge someone's contriteness.  In other words, is my 'Cause' believable?  What 'Effect' do I want and is it honourable? … … … it's a trust thing.
So do I believe the Pope?  Yes I do, actually, although I can see there's an agenda at work.  Same for the IRA.
Bankers – no.  Car makers – no, they've had plenty warnings from intelligent people like myself that their business models were un-sustainable.  There's the proof.  It's in the phrase.
UK Politicians on expenses – no, probably.  It'll take a generation to clear this mess up.
Cricketers and other sportsmen – they shouldn't need to apologise – it's only a game mate.
US Presidents (inc Obama) and any other person who thinks it's okay to bomb civilians as acceptable 'collateral damage' – no way.  This is a continuing abomination against mankind.  Anyone who does this does not have a just cause in the slightest.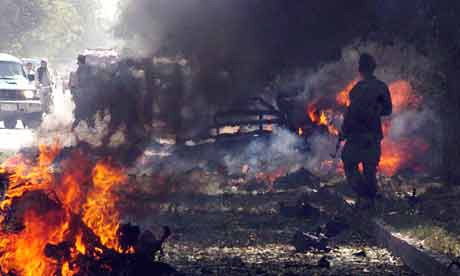 So this includes Obama and Bush, Blair and Brown, all the mad Muslims and their sacrificial bombers and all the mad Jews with their denial of a right to life for an indigenous population.  The continuing excesses and excuses for the deaths, maimings and oppressions of ordinary people in the pursuit of 'the enemy' or 'freedom for…' or for any 'cause', is in no way justifiable.  To apologise after each event is pathetic and just proves the inherent weakness of the cause.
There really has to be a better way.
Here's what Nichiren Daishonin said, many years ago:
…if the minds of living beings are impure, their land is also impure, but if their minds are pure, so is their land. There are not two lands, pure or impure in themselves. The difference lies solely in the good or evil of our minds. – On Attaining Buddhahood in This Lifetime – The Writings of Nichiren Daishonin, Volume 1, page 4
In this context Nichiren is saying that the law of Cause and Effect works at a personal level which spreads out to encompass the whole environment in which we dwell. He's saying that the hellish circumstances in the Middle East, Palestine, Egypt, Iran, Iraq, Pakistan, the US, the UK, Afghanistan, Israel and everywhere blighted by devilment, are all derived from the actions of people.  Without people there would be just earth.
It's the actions which are derived from the causes that people make that bring the hell to these lands.
This means that the causes that bring the bombs to Baghdad are the same as those that bring sleaze to Britain.  In the former, morally bankrupt US & UK politicians and morally bankrupt Muslim leaders using their religion as a shield for oppression, battle it out in the streets of Iraq, Pakistan and elsewhere.  In the UK, the actions of the same morally bankrupt politicians are entwined with their brothers in business, like ivy sucking the juice from the tree of state, and are now both exposed for what they are – greedy children caught with too many sweets in the playground.
They should all, as Nichiren implies, "think pure", and the country and all we interact with, will be pure.
It's the only way.